In my previous post
I explained how you can create a new interface for a specific list by using the XLV webpart.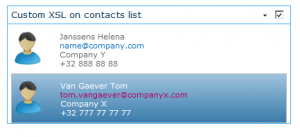 This post demonstrates how you can extend the the list view webpart of a list based on the out-of-the-boc contact list template.

Copy paste the following code in an xsl file and upload it in the style library.Tthe final step is to link the listview webpart with the xsl in the style in the style library and your done!
Download the xsl file here:
contacts.xsl



  
  
    
      <![CDATA[
      
      ]]>
    
    


      
        
        
      
    


  
  
    
  


Hope it helps,
Tom