The only thing you need to do, in order to synchronize a SharePoint library with a directory on your PC,
is to click the SYNC button in the upper right corner of the Library you have opened in your browser.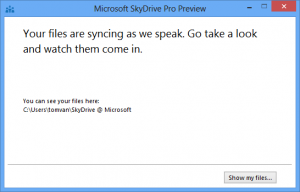 All the files from your mysite (or any document library you synced) is now offline available.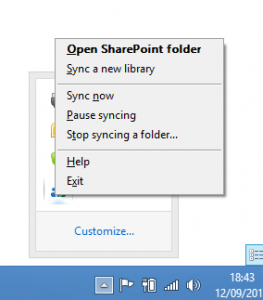 Did you notice the new taskbar icon?
Conclusion
Skydrive needs to be downloaded in order to use it in combination with live.com or outlook.com, but the skydrive pro is part of Office 2013 and is activated as soon as you sync a document library.
Microsoft Office 2013
You need to have Microsoft Office 2013 installed on your machine. If Office 2013 is not installed you'll receive
a nice "The webpage cannot be displayed" exception.
UPDATE 23/05/2013: Skydrive PRO Sync Client is available
http://tomvangaever.be/blogv2/2013/05/skydrive-pro-sync-client-is-now-available-for-windows/
/T
Skydrive PRO: How to have your documents in sync with the my documents folder?

,