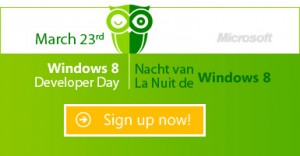 Join the first Windows 8 Developer Day in Belgium! A full day conference with technical sessions that dive into the platform for building Windows 8 Metro Style apps.
With Windows 8 Consumer Preview just released, you'll learn first-hand how to:
Use the new features in Windows 8 Metro apps to your advantage
Use the developer platform with C#, C++, XAML, HTML and JavaScript
Monetize and distribute your app
The keynote speaker is Giorgio Sardo, HTML5 and Windows 8 Senior Technical Evangelist at Microsoft.
When the sun sets, we dive into the night with the very first Nacht van Windows 8 / La nuit de Windows 8,an app-a-thon like you've never seen!
Team up with your best UX friend to build a killer team, come alone, sign up with a group, whatever you want! And win prizes with you app…